Certification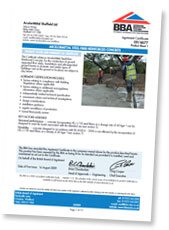 The Patented interlocking Insulslab expanded polystyrene pods conform to the technical guidelines of the insulation structural element as set out within the BBA Certificate 12/4894 ArcelorMittal Steel Fibre Reinforced Concrete (SFRC) and were used exclusively within the site trials of this certification.
Download the Insulslab BBA Certificate
Only HE+1/50 steel fibres from ArcelorMittal are certified as being appropriate.
The BBA Certificate relates to ArcelorMittal SFRC in conjunction with Insulslab for the construction of ground supported floor slabs, foundations and pile-supported ground beams in domestic and similar types of buildings cast on the ground in locations not subject to clay heave.