Step 5 – Steel Fibre Integration and Mixing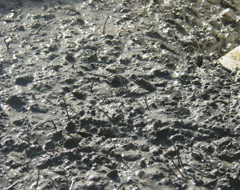 Steel fibres can be added either in the stationery mixer of the batching plant or directly into the truck mixer. Integration can be done manually or by using integration equipment like conveyor belts or blowers (only for larger project sites).
At a dosage rate of 50 kg/m3, you will need 2 boxes in each batch for every cubic metre of concrete. The number of boxes will always be rounded up to the next full box. It is mandatory that prior to adding the steel fibres, the operator in charge of adding the fibres counts and separates from the pallet the correct number of boxes for each batch, so that no mistake is made in the number of boxes dosed. Boxes must be handled with protective gloves and all procedures in accordance with the Concrete Plant Health & Safety Regulations must be observed.
When steel fibres are added directly into the ready mix truck, the following procedure should be followed:
The concrete plant shall load the full quantity of concrete while the drum is at charging speed (12 rpm) as is usual for any regular concrete type. The concrete slump shall be at least 75mm before starting the addition of the steel fibres
Empty the counted number of 25 kg boxes of steel fibres into the concrete. Fibres should be added slowly and continuously at a rate of about 30 – 40 kg per minute in order to avoid fibre balling. When a conveyor belt is used, the fibres need to be spread out on the belt rather than simply heaped in a pile, to prevent clumps of fibres and ensuring an even distribution
After having finished the steel fibre addition, rotate the drum at full speed. Mixing time is about 1 minute per m3 of concrete with a minimum total mixing time of 5 minutes
The ready mix truck driver shall confirm the added fibre quantity on the delivery ticket by adding by hand the number of boxes of fibres added and signing said delivery ticket
Immediately before discharging the fibre reinforced concrete at the job site, mix again with the drum at 12 rpm for about 1 minute
In order to check the concrete conformity to the specification on the job site when starting a new job, make sure that the second truck is shipped only from the batching plant after the first load is approved.